Mrs. Kilmer High School Reading List
New Life High School is a challenging, fun and academic environment where students are taught above average material from a Biblical perspective.
We strive to teach our students to master both core academic knowledge and critical and creative thinking skills, thus enabling them to become life-long learners, leaders, and problem-solvers.
Our students work hard in the classroom, but we also encourage learning outside of the classroom. We offer classes as needed to fit with each student's goals. Small class sizes with an emphasis upon excellence in academics and personal development is a priority.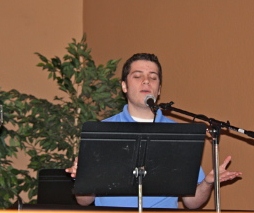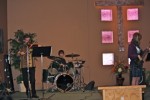 Worship Team is a class that is held three times a week and is available for High School and Jr. High grades. Participation is voluntary but you can ask any student involved and they will tell you it's a fun class! The worship band consists of piano/keyboard, drums, bass guitar, electric guitar, acoustic guitar, worship leading and background vocals (and we have had violin, viola, and saxophone on the team too!) Experience is not required and students are encouraged to learn new instruments and gain confidence in singing.
Students also may learn to control the sound system and computer and projector in the audio/visual portion of class. Our worship team has had many opportunities to minister outside of the school including Sunday morning worship services at Centerpointe Community Church of Eureka, Rio Dell Assembly of God, and others. Students are trained and equipped to become vital parts of their individual home church worship teams. Susan Natt is the instructor for this class.
Teachers
– Lloyd Bice
– Steven Jones
– Susan Natt
– Elizabeth Kilmer
Testing
Achievement tests are administered in the spring each year.